August 5, 2018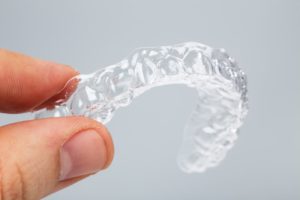 Dental advancements have only allowed dentists to help more and more people solve increasingly unique dental problems. One of the most common problems a dentist hears (outside of tooth decay and gum disease) is the issue of gapped or misaligned teeth. Through Invisalign in Blaine, dentists can easily shift teeth in less time than traditional braces without sacrificing appearance. But what else can Invisalign accomplish?
To find out why Invisalign is more than just a cosmetic treatment and many other questions people ask, keep reading!
Is Invisalign Purely Cosmetic?
Invisalign is best known for it's ability to shift teeth without the use of metal hardware, but many ask if there are benefits outside of cosmetics. According to dentists, there are several health reasons to fix a misaligned bite or remove gaps. For example, straight teeth are much easier to clean due to the lack of open pockets often associated with crooked teeth.
Having a more even bite is also crucial to preventing conditions like enamel erosion and temporomandibular joint (TMJ) disorder. When a bite is uneven, it causes the forces associated with chewing to become uneven as well. This causes teeth to grind up against each other and erode more quickly. It also puts additional stress on the TMJ, which connects the lower jaw to the skull. If left untreated, you can easily experience symptoms of TMJ disorder, including chronic jaw pain, headaches and even lockjaw.
What Can I Expect During Treatment?
During your consultation, the dentist will determine if you're eligible for Invisalign. If so, they'll begin taking impressions of your teeth and send that data to one of Invisalign's many lab technicians offsite. That technician will send a treatment plan back to the dentist who signs off on it and then orders the series of aligners.
Each pair of aligners is worn for a set period of time, typically two weeks, allowing the teeth to gently shift into a straighter position.
How Long Does Treatment Take?
The length of treatment can vary depending on how complex your case is as well as your commitment to wearing the aligners daily. People with mild to moderate levels of crooked teeth who wear aligners for at least 20 to 22 hours a day can expect a treatment time of 6 to 12 months.
How Do I Care for My Aligners?
Caring for your aligners is as simple as your current routine oral care. Every time you brush, which should be twice a day, remove your aligners and let them soak in cleaning fluid. This could be either denture cleanser or Invisalign's own cleaning crystals. Once soaked, remove any loose food debris or plaque still stuck to the aligners and rinse them before wearing. Make sure to avoid using hot water to soak them as this can permanently damage them. Avoid using colored soaps for cleaning as this can stain them.
Still have questions about Invisalign? Schedule an appointment with a cosmetic dentist in Blaine for more info!
About the Author
Dr. Douglas Green earned his DDS degree from the University of Iowa College of Dentistry. He's also a member of the American Academy of Cosmetic Dentistry and certified provider of many orthodontic systems. To learn more about his practice, you can contact him through his website.
Comments Off

on Invisalign in Blaine: The Most Common Questions A Dentist Hears
No Comments
No comments yet.
RSS feed for comments on this post.
Sorry, the comment form is closed at this time.