Gummy Smile Correction – Blaine, MN
Remove the Excess for a More Beautiful Smile
How does your smile make you feel? Are you confident because of your brighter, whiter teeth or embarrassed because of the excess soft tissue surrounding your pearly whites? A gummy smile in Blaine can leave you feeling as if you must hide your appearance. Not to mention, the trouble it can cause in trying to maintain better oral health. Fortunately, at Imagine Smiles, Dr. Green and Dr. Case can use the LightWalker laser dentistry system to create an even and beautiful appearance without the extensive recovery. Contact us today to learn more about this process and if you're eligible to receive this type of cosmetic treatment.
What Causes a Gummy Smile?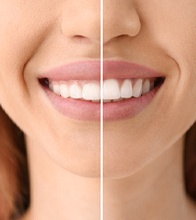 Feeling frustrated because you don't know why you have this excess tissue surrounding your teeth? You're not alone. Many patients often wonder about the reasons for their gummy smiles. While it cannot be pinpointed to one specific cause, it typically occurs because of:
Permanent teeth that did not erupt correctly
Dramatic movement by your upper lip
Certain medications you may be taking that are known to cause an overgrowth of gum tissue
A natural overgrowth of gum tissue that results in teeth appearing "stubby"
Why It's Important to Correct a Gummy Smile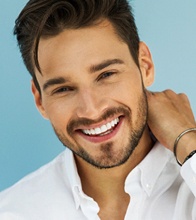 Apart from the aesthetic benefits of correcting your gummy smile, there are many other reasons it is beneficial to undergo gummy smile correction, including:
You will reduce your risk for gum disease. When too much excess tissue exists, it is easier for bad bacteria and food particles to burrow into the soft tissues. As a result, it can lead to gum pocket formations and eventually damage your bone and surrounding teeth.
The ability to receive restorative treatment (i.e., dental crown) to treat a severely decayed or damaged tooth. When too much oral tissue covers the natural tooth structure, it may be difficult for us to effectively place a dental crown over the weakened tooth. By removing the excess tissue, you can receive the treatment you need to ensure a healthier smile.
Your facial structure and aesthetic will appear balanced and function harmoniously, allowing you to possess a more natural look when surrounded by others.
How a Soft Tissue Laser Can Correct a Gummy Smile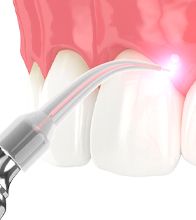 At Imagine Smiles, we use the LightWalker laser dentistry system from Fotona. This unique device makes it easy to maneuver among both hard and soft oral tissues. Unlike traditional scalpels and sutures that many dentists use to perform gummy smile correction, this dental laser offers optimal precision and accuracy, making it possible to remove excess tissue with waves of light without touching other areas of your smile. You will find that we can preserve more of your natural tooth enamel and healthy tissue by using this system. And because it is a dental laser instead of scalpels and sutures, you can expect:
A more comfortable experience while undergoing treatment
A quicker recovery that lasts only a few days instead of a few weeks or months
A procedure that requires no stitches
A decreased chance of infection because of your quickened healing time
Optimal precision and accuracy when removing excess gum tissue
To spend less time in our dental office because of the quickness of the dental laser