Cosmetic Dentist Enhancing Smiles around Blaine
Although he's a general dentist, Dr. Green's passion is to create beautiful smiles. As a member of the American Academy of Cosmetic Dentistry, Dr. Green spends many hours each year keeping up to date on the latest and most advanced methods for improving facial esthetics. He ensures that enhancing the appearance of your smile never compromises function and comfort. You don't build a house on a damaged foundation - the same philosophy applies to your smile.
Following a discussion of what you envision for your smile, Blaine cosmetic dentist Dr. Green will conduct a thorough examination of teeth, gums, and bite alignment. He'll first correct underlying problems that impact oral health and function, then perform the cosmetic dentistry treatments that bring out the best in your smile. Building on a solid foundation helps dental work last longer and provides optimal satisfaction.
Imagine Smiles offers innovative cosmetic dentistry solutions to eliminate dental flaws and create brilliantly white, shapely teeth. Whether your main concern is misaligned teeth, cracks or chips, or the stains that seem to have accumulated on your once pearly whites, our cosmetic dentistry services will revitalize your teeth, and energize your confidence.
Teeth Whitening
Some smiles need nothing more than a color boost to look great—and by color boost we mean a brighter shade of white. With Zoom! in-office teeth whitening, you can have a smile that is several shades whiter in about an hour. We'll apply the proprietary gel to your teeth, and while you sit back and relax, a special light will activate and speed the whitening process.
If you're not in a hurry, then we also offer NiteWhite, a take-home kit that includes custom fit bleaching trays and professional strength bleaching gel. Just fill the trays with gel and wear them according to the instructions your receive from your 55449 cosmetic dentist.
Invisalign®and Six Month Smiles®
If straight teeth are your desire, then Dr. Green offers two different orthodontic systems that have a clear advantage over traditional braces. Invisalign uses a sequential series of clear plastic aligners to move your teeth. Your aligners are designed specifically for your orthodontic needs and each pair—one for your upper teeth and one for the lower—shift teeth step-by-step toward a straighter smile. Invisalign aligners can be used to correct overcrowding, crooked teeth as well as bite problems.
Six Month Smiles are intended to address only the cosmetic concerns of a misaligned smile. The system uses the same mechanics as traditional braces, but the brackets and wires are tooth-colored or clear. And because bite correction is not a goal, these braces can straighten your teeth in six months as the name suggests.
Dr. Green offers a full menu of enhancements that are so natural looking, your friends and family will only notice your amazing smile!
For cosmetic dentistry, Blaine residents have come to rely on Dr. Green, and you can, too! Call our office today to schedule your consultation.
Cosmetic Dentistry FAQs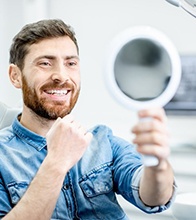 Thinking about transforming your smile with cosmetic dentistry? At Imagine Smiles, we want you to feel completely confident in every decision you make about the dental care you receive. Many patients have questions that must be answered before they're comfortable undergoing cosmetic dentistry, and that's why we've compiled the answers to several of the most common questions we get below. If you have additional questions, feel free to contact us and ask!
Is Cosmetic Dentistry Safe?
As a holistic dental practice, our team at Imagine Smiles cares about our patients' overall well-being, which is directly affected by oral health. Even when we're focused on improving the appearance of your smile, we'll be sure to do so using the safest methods possible. For example, our crowns and fillings are completely mercury-free, so you won't need to worry about harming your health just to improve your smile.
The majority of cosmetic dentistry services are quite safe for most patients. To verify that a particular service is right for you, your cosmetic dentist in Blaine will examine your mouth and plan to address any untreated oral health issues right away. With a healthy smile, the risk of complications from cosmetic services is minimized, and your results will likely last longer.
How Long Do Cosmetic Dentistry Results Last?
Like many things in life, most cosmetic dental treatments don't last forever. However, you do have some degree of control over how long your grin stays bright and beautiful. For treatments like whitening, bonding, and veneers, you can maintain your results by brushing and flossing daily, attending dental checkups and cleanings twice a year, and staying away from tobacco as well as foods and beverages that cause discoloration. For orthodontic treatments like Six Month Smiles and Invisalign, the results might even be lifelong, provided you wear your retainer as directed afterward.
Is Cosmetic Dentistry Covered by Dental Insurance?
Unfortunately, dental insurance companies rarely cover cosmetic services, as they're not considered a medical necessity. There may, however, be an exception if it could be argued that your treatment provides some benefit to your oral health. For example, a crown or bonding might strengthen a cracked tooth, so insurance could end up covering a portion of the cost. It all depends on your specific policy, though. Many dental insurance plans provide a fixed amount of coverage for orthodontic treatment, but there's a chance that it can only be used for traditional braces, not Invisalign and Six Month Smiles. Our team can help you navigate your specific coverage and make sure you're not spending a cent more than you need to.
Does Cosmetic Dentistry Hurt?
Even if you have your heart set on transforming your smile, it's common to worry about whether the specific procedures you have in mind will hurt. We prioritize your comfort here at Imagine Smiles, and we take every measure to make your treatments painless. Some cosmetic services, like whitening, are so minimally invasive that we don't even to numb your mouth beforehand. Others, like veneers, require altering the tooth structure, so we'll administer a safe local anesthetic to ensure you feel no pain. However, your mouth might be slightly sore for a few days afterward.