Dentures – Blaine, MN
The Tried-and-True Solution to Missing Teeth
You no longer have to imagine a complete and functional smile because our team offers custom-crafted, natural-looking full, partial, and implant dentures in Blaine that can make your dream a reality! Not only can these replacement teeth restore the appearance of your smile, helping you laugh and speak with confidence again, but they also make basic daily tasks like eating and speaking easier. To learn whether dentures can benefit you, call our office to schedule a consultation today!
Who is a Good Candidate for Dentures?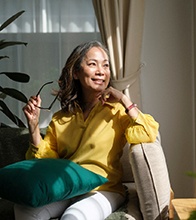 There are multiple types of dentures that we can craft to meet a wide range of needs, making this a versatile treatment option that can fit most patients' tooth loss situations. We typically recommend this option for patients who are either missing several or all of their teeth in an arch, and based on a thorough examination, we'll present you with a detailed treatment journey so you know what to expect during the process. In some cases, patients may require tooth extractions or other preparatory procedures before they can be fitted for a denture.
Types of Dentures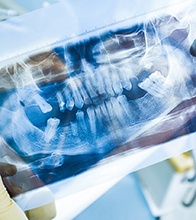 Based on the type of tooth loss you face, your dentist in Blaine will suggest one of the following denture designs to help improve your quality of life and restore your smile.
Partial Dentures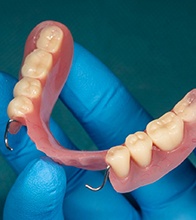 A partial denture consists of multiple teeth on a gum-colored resin base that wraps around the remaining teeth in the mouth. A partial is not fixed in place. It is normally secured using clips or brackets that wrap around the adjacent teeth and is removable.
Full Dentures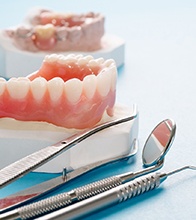 A full denture is a complete top or bottom row of teeth mounted on a gum-colored base. Dentures are designed to replace all the upper or lower teeth. Although they provide a cost-effective way to restore chewing and speaking function, for patients who are looking to restore the entire structure of missing teeth for a lifelike look and feel, we often recommend dental implants.
Implant Dentures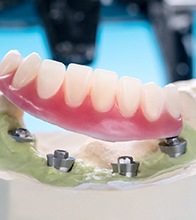 To avoid the need for unsightly clips or denture adhesives, the addition of dental implants to a treatment plan may provide an extra level of stability for a denture or partial. Through a brief surgery, dental implants can be placed to hold your denture or partial in position. You won't have to worry about slippage, and your prosthetic will feel safe and sound. To learn more about the advantages of dental implants, click here.
The Benefits of Dentures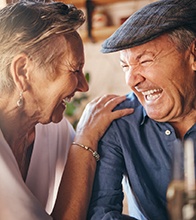 Some of the benefits that you'll be able to enjoy when you choose dentures to restore your smile include:
To learn how dentures can help you, give our office a call today!