LightWalker Laser Dentistry – Blaine, MN
High Quality, Minimally Invasive Dentistry
The team at Imagine Smiles in Blaine has always been committed to using the latest in dental technologies in order to ensure the comfort and efficacy of every treatment we provide. In recent years, we've invested in the LightWalker laser dentistry system from Fotona. While lasers have been used in dentistry for years, they were always limited to use for hard or soft tissue. Unlike traditional laser systems, the LightWalker laser dentistry system is able to be used for both hard and soft tissue treatments, adjustable to meet the needs of specific dental services. If you're interested in finding out more about our state-of-the-art dental office in Blaine, please call to ask any questions you have or schedule an appointment. We look forward to hearing from you.
Soft Tissue Treatments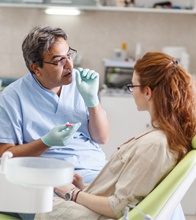 The innovative LightWalker laser system can be used to perform numerous soft tissue treatments, including:
Advanced gum disease treatments and deep cleanings like scaling and root planing
Adjusting and reshaping the gum line to improve the appearance of "gummy" smiles
Preparing teeth for restoration services like dental crowns by removing excess soft tissue to reveal additional supportive dental structure
Removing excess skin that impedes the ability to speak, chew, and smile with procedures to undo lip and tongue tie
Hard Tissue Treatments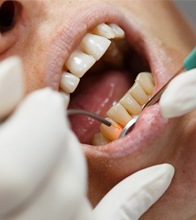 In addition to soft tissue treatment, the LightWalker laser system allows our team to more quickly and precisely perform a number of hard tissue treatments as well, including:
Painlessly removing any decayed or damaged tooth enamel before restorative dentistry services begin
Preparing teeth for dental restorations or cosmetic solutions, including fillings, dental crowns, and porcelain veneers
Cosmetically reshaping tooth enamel to improve the overall appearance of the smile
How it Works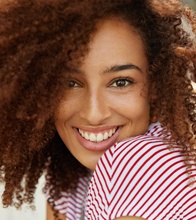 The LightWalker laser system uses waves of light that are harnessed to remove specific types of hard or soft tissues. The LightWalker laser is easily adjusted to remove any kind of tissue and address a wide array of oral health concerns. The laser light waves are focused in precisely on the specific hard or soft tissue, so that only damaged, decayed, or excessive tissues are removed. This high level of precision allows us to assess oral health concerns while preserving the greatest amount of healthy tooth enamel and soft tissue.
Benefits of Laser Dentistry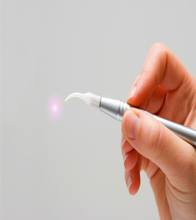 There are many benefits to utilizing the LightWalker laser system to perform dentistry treatments, including the following:
Patient comfort – precise and comfortable, laser dental treatments make it possible for patients to undergo complex treatments with minimal discomfort
Healing time – following LightWalker laser treatment, most patients make a complete recovery in just a few days
Stitch-free – soft tissue laser treatment negates the need for stitches, making these services faster and more comfortable
Reduced Infection Risk – because of the reduced healing time, you are less likely to experience infection, especially important for gum disease sufferers
Greater precision – this increased precision means as much healthy tissue as possible will be preserved
Shorter treatment time – you'll spend less time in our office – though we hate to see you go – and more time on all your other day-to-day tasks