Invisalign – Blaine, MN
Convenient and Discreet Orthodontic Treatment
Do you dream about having a smile full of sparkling, straight teeth, but you just can't imagine yourself wearing traditional metal braces? You've probably invested in a professional, mature image, and you shouldn't have to look like a teenager to straighten your teeth. We agree. Invisalign, an orthodontic treatment approved by the FDA, is the virtually invisible method to straighten your teeth without conventional braces. With Invisalign, a custom-molded set of transparent, removable aligners will progressively reposition your teeth. This technology is both comfortable and convenient.
How Invisalign Works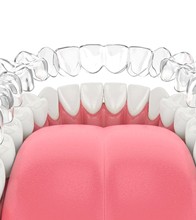 During your consultation, your dentist in Blaine will examine your teeth and determine whether Invisalign is right for you. If it is, we'll take impressions of your teeth, which Invisalign will then use to fabricate your custom aligners. You'll wear each aligner for roughly 20 – 22 hours each day for about two weeks. Once you work your way through all of your aligners, you should be the proud owner of a straighter, healthier smile. Throughout your treatment period, you will visit us for brief checkups so we can monitor your progress and answer any questions that may come up.
Indications for Invisalign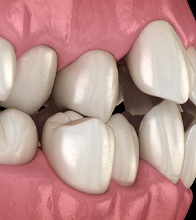 Invisalign in Blaine is able to address most cases of mild to moderate dental misalignment. Below, you'll find examples of some of the problems that it is often able to fix:
Crowded Teeth
Overlapping, crowded teeth may trap food between them and be at a higher risk of breakage. Invisalign, along with possible extractions, is usually able to give each tooth the space it needs to function and feel its best.
Gaps Between Teeth
Some people regard gaps between their teeth as a signature look, but those gaps can leave your gums vulnerable to harm. Invisalign can bring the teeth closer together, enhancing both the aesthetics and health of your smile.
Bite Alignment
Overbite, underbite, crossbite, and open bite are some common bite alignment problems that can adversely affect facial aesthetics and oral health. Invisalign, usually with the help of accessories, can correct many cases of bad bite.
The Benefits of Invisalign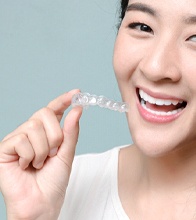 Some of the top benefits of Invisalign include:
The aligners are removable, so you can eat your favorite foods and brush your teeth with ease.
The aligners are discreet, allowing you to smile confidently and maintain a professional image.
The average treatment time is relatively quick, usually much faster than traditional metal braces.
The aligners are metal-free, making them fantastic for patients with metal allergies or sensitivities.
Invisalign uses advanced technology to ensure predictable results and efficient treatment.
Understanding the Cost of Invisalign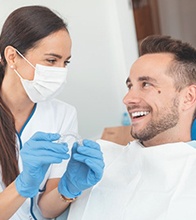 Because the intricacies of each patient's treatment are so complex, the cost of Invisalign in Blaine varies from case to case. It depends on numerous factors, so you will need to come in for a consultation to get a better idea of how much you'll be expected to pay. Some dental insurance plans cover Invisalign, and most patients qualify for third-party financing through CareCredit or Lending Club. Our team will do all we can to help you explore your payment options and fit Invisalign into your budget.
Factors That Affect the Cost of Invisalign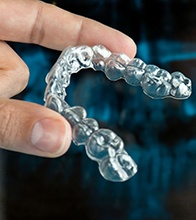 Each Invisalign treatment is as unique as the smile it's straightening, so it's almost impossible for two patients' treatments to cost the exact same amount. Too many factors come into play for our team to be able to give you an accurate price estimate before your consultation. During this appointment, Dr. Green or Dr. Case will review your specific circumstances and outline how much your treatment will likely cost. Some of the variables that affect Invisalign cost include:
These questions will influence the number of aligners you'll need to wear and, by extension, pay for. Keep in mind that if you fail to wear the aligners as directed, your treatment may end up taking longer and requiring more aligners, increasing your costs.
Cost of Invisalign vs. Cost of Smile Direct Club™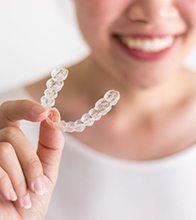 "Do-it-yourself" clear aligner systems like Smile Direct Club™ have become quite popular in recent years, and it's easy to see why. Not only do they let you straighten your teeth at home, but they also cost only a fraction of what Invisalign costs. However, Smile Direct Club™ and other mail-order clear aligners could end up costing you more overall.
Without the oversight of a dental professional, there's plenty of room for things to go wrong. For example, you might accidentally take incorrect impressions that cause the aligners to shift your teeth in unfavorable or even unhealthy ways. Since you're not seeing a dentist regularly throughout treatment, you may not notice the issue until it has progressed considerably. At that point, you'd have to pay to get the problem fixed by a professional, in addition to what you already paid for the DIY aligners.
By choosing to see an Invisalign dentist in Blaine from the start, you can rest easy knowing your treatment will be safe and effective. Quality results and peace of mind are definitely worth paying for!
Does Dental Insurance Cover Invisalign?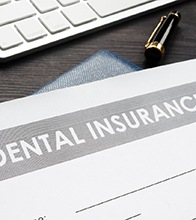 It depends on the specifics of your policy, but it's not uncommon for Invisalign to qualify for partial insurance coverage. However, many plans only cover orthodontic treatment for patients under 18, or they only cover traditional braces. Our team can help you navigate your plan and make sure you're getting all of the savings to which you're entitled.
Options for Making Invisalign Affordable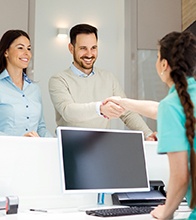 For patients without insurance, or whose plans don't provide sufficient coverage, our practice can help you afford Invisalign via third-party financing. We partner with CareCredit and Lending Club, both of which offer multiple monthly payment plans to choose from. Most of these plans come with little to no interest attached, making it easy to fit your Invisalign costs into your budget.
Invisalign FAQs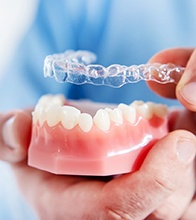 Whether you've had braces before or are looking into orthodontics for the first time, it's natural to have questions about Invisalign. We're here to make finding the answers as seamless as possible! While our team is available via phone or consultation, we know that some patients like doing as much research as they can online. For that reason, we've responded to a few of the most frequently asked questions below.
How Long Does Invisalign Take?
You know Invisalign is discreet and effective, but how long does the average treatment timeline take? While the length of time you need to wear your clear aligners will depend entirely on your dental needs, the average treatment with Invisalign is between 12 and 18 months. Since traditional braces can take 24+ months, it's not hard to see why many patients prefer Invisalign.
Does Invisalign Hurt?
Since your teeth are being guided into an entirely new position, Invisalign treatment naturally comes with some minor soreness. Luckily, this discomfort is usually short-lived and only occurs immediately following your transition to each new set of trays. Furthermore, there are some effective pain-relieving methods you can implement to stay as comfortable as possible, such as sticking to soft foods and using a cold compress.
What Happens After Invisalign?
After you've worked through your entire series of clear aligners, you'll be given a retainer. Don't worry – there are options that are equally as discreet to ensure wearing it won't detract from your beautiful new smile. Basically, you will wear your retainer 20-22 hours a day while your teeth "set" in place. Usually, this takes about six months. From there, you can begin to slowly transition to wearing it only when you turn in for the evening. To prevent orthodontic relapse, this practice should be a lifelong one.
What if My Invisalign Broke?
If your Invisalign aligners break, time is of the essence. Priority number one is to get in contact with your dentist. Depending on where you are in your treatment timeline, there are a few options they will recommend. For example, if you are about to transition to your next set of aligners, they may recommend doing so early. If you still have your most recent pair, then they may recommend wearing those until your replacement ones arrive. Remember, do NOT take action without your dentist's approval. This can seriously derail your treatment timeline, necessitating more time and money to be spent on treatment.
Can You Eat with Invisalign?
One of the must-follow guidelines with Invisalign is that you cannot eat with them in. This can warp their shape and lead to unpleasant staining, which will make your clear aligners not so discreet. The good news is that the aligners are entirely removable, allowing you to enjoy all of your favorite foods throughout your treatment. Just be sure to be cautious with crunchy, sticky, and sugary foods, all of which have the potential to damage your teeth.