September 17, 2018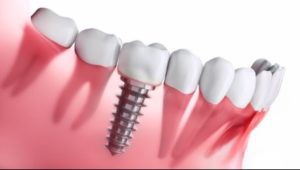 Most people take their teeth for granted and don't give them a second thought – until they experience tooth loss. Then it quickly becomes apparent that healthy teeth add to a person's quality of life in countless ways! For many years, tooth loss meant having limited replacement options like bridges and dentures. Thankfully, that's no longer the case. Dental implants in Blaine came along and offered patients an option that looks and feels more like their natural teeth than anything else. And although it has a high success rate of 98%, complications and failures do occur. The good news is that there are ways to make your chances of success even higher with the right habits. Keep reading for 5 great tips below!
1. Maintain Good Oral Hygiene
Implants can't get cavities, but they can fail if the gum tissue around them and underlying bone support aren't clean and healthy. In fact, gum disease is the leading cause of natural tooth loss and negatively affects implants as well.
One of the most important things you can do for healthy gums is to brush and floss consistently. Make it your goal to brush at least twice a day for two minutes and floss once. Many people struggle with flossing, so remember – it's not an all-or-nothing approach – always aim for better, not perfect.
Also, sure to ask your dentist or hygienist about your flossing technique, as it's a bit different around implants.
2. Protect Your Implant From Clenching and Grinding
Clenching and grinding puts a huge amount of force and pressure on your natural teeth and implants. Not only can it cause your natural teeth to develop small cracks, it can potentially cause your implant to become loose and fail over time.
Fortunately, a nightguard can protect both your own teeth and implants from the damage associated with clenching and grinding.
3. Get Regular Checkups
Regular checkups are important so that a dentist in Blaine can monitor the health of your dental implants and the surrounding gums that support them. It's always much easier to find and treat problems as soon as possible, rather than waiting until they become more involved.
4. Quit Smoking
The success rate for implants is 98% in non-smokers, but that drops to 85% for smokers. Tobacco interferes with your body's ability to heal, which is important after an implant has been placed to help it fuse with the surrounding jawbone.
5. Seek Out an Experienced Dentist
Implants are an investment in your oral health that are more cost-effective than other options in the long run because they can last decades with good care.
Although some offices offer "bargain implants," it's well worth it to make sure that an experienced dentist with advanced training performs your procedure. That way, you can be sure that high-quality materials and techniques were used to help you get the most out of your implant for as long as possible!
About the Author
From an active membership in many professional groups to educating other dentists on a variety of topics, Dr. Green is considered a leader in his field. In his clinical practice, his priority is to build long-term relationships with his patients by providing skilled, compassionate care. If you have any additional questions about implants, he can be contacted via his website or at (763) 269-8650.
Comments Off

on 5 Ways To Improve the Chance of Success of Your Dental Implants In Blaine!
No Comments
No comments yet.
RSS feed for comments on this post.
Sorry, the comment form is closed at this time.