October 29, 2018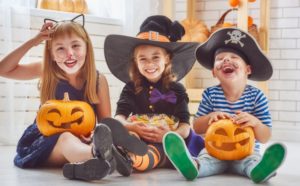 When you think of Halloween, images of your children dressed as their favorite characters while eating assorted candy flavors, appears in your mind. Could this lead to some problems, though? Your family dentist in Blaine says the influx of sugar from the Halloween candy delights could set your children on-course for cavities. Thankfully, there is a way to preserve the fun of this fall event without sacrificing their oral health. Read on to find out how!
Sugar – The Real Monster on Halloween!
As a parent, instead of ghoulish monsters and ghastly ghosts, you have a greater concern about the havoc that high sugar consumption can have on your kids' teeth. That's because sugar attracts bacteria, and as the latter grow, they cause tooth decay and cavities.
A better way to navigate the evening is to have some healthier candy options in place.
Xylitol to the Rescue!
An alternative to the typical types of treats consumed on Halloween are xylitol-based candies. Xylitol is a natural sweetener that comes from birch trees and certain grasses. It has the following healthy features:
It is a low glycemic sweetener, which means it doesn't have many of the negative side effects that come along with sugar – like elevating the blood-glucose levels, which can make the mouth more toxic.
Unlike sugar, xylitol can't be absorbed by the decay-causing bacteria in the mouth. Thus, it helps to prevent cavity development.
Studies show that with six months of use, xylitol can help to eliminate harmful bacteria from the mouth.
Where Can Xylitol Be Found?
It's great that xylitol has so many health benefits, but will that be helpful to you on Halloween night? Here are some of the different types of treats that have a xylitol option:
Gum
Mints
Chocolates
Taffy
Lollipops
Candies
Usually, your local health food store will have products like these, but you'll still need to read the labels to make sure xylitol is the primary sweetener used.
Other Ways to Protect Your Children's Oral Health
Along with providing your kids with xylitol-based candies, it's also important to monitor their oral hygiene. They should have a designated time to eat their Halloween treats, and when their done, they should immediately brush and floss their teeth. This provides further assurance that they are protected from bacteria growth, and better yet, there are toothpastes that use xylitol as their sweeteners.
Halloween is a fascinating time of the year where your children are allowed to let their imagination roam free. By implementing what you've learned here, they'll be able to have fun and stay safe.
To learn more Halloween safety tips, contact your dentist in Blaine to schedule a visit today!
About the Author
Dr. Douglass Green earned his dental degree from the University of Iowa College of Dentistry. Throughout his career, he has remained committed to providing the best care, which is why he takes over 75 hours of continuing education annually. Dr. Green takes a creative yet competent approach to dentistry, incorporating holistic principles into the care he provides patients at Imagine Smiles. He can be reached for more information through his website.
Comments Off

on Your Family Dentist in Blaine Says Pick the Right Candy for Halloween
No Comments
No comments yet.
RSS feed for comments on this post.
Sorry, the comment form is closed at this time.