December 16, 2018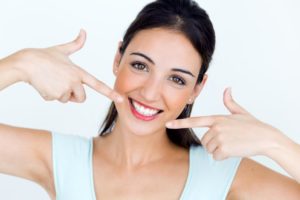 When was the last time you spoke to a dentist who asked you about conditions that weren't related to your oral health? If that answer is never, then it's important that you understand how the health of your teeth and gums can be directly correlated with the rest of your body. For example, gum disease can break apart the barrier between your mouth and your bloodstream. This can result in bacteria traveling throughout the body and increase your risk of cardiovascular disease later in life.
But what else can you expect from a holistic family dentist? Keep reading to find out!
How to Know if Holistic Dentistry is Right for You
Keep in mind that holistic dentistry does not pertain exclusively to one treatment or one type of treatment. It's a mindset that the dentist provides patients who care about the materials they put inside their body. If you see your body as one unit that can be affected by other parts of the body, then a holistic dentist could be just the perspective you need to maintain long-term oral and overall health.
Holistic dentists do everything they can to address issues you have throughout the body, especially the head, neck or face. These areas in particular can be caused by chronic issues related to the jaw, for example. Holistic dentists may also take your digestion and diet into account. This is because conditions like acid reflux can negatively affect your tooth enamel if your diet is triggering heartburn.
What to Expect During Your Visit
As mentioned, holistic dentistry doesn't only apply to one treatment. It applies to the way in which treatments are created as well. It applies to routine treatments like checkups and cleanings, but also to more complex treatments like dental crowns and dental implants.
During your visit, the dentist is far more likely to ask you more details about your medical history or dental preferences. More than anything, holistic dentists want to make sure their patients receive a level of care not typical in most dental practices.
What Questions Should You Ask a Holistic Dentist?
If you decide to visit a holistic dentist in person, it's worth asking them about their daily practices so that you can get a better idea of what future treatments might entail. For example, you may ask them questions like:
Do you use mercury for your dental fillings?
What are your thoughts on fluoride and its applications?
Do you perform biocompatibility testing? (Tests like these are meant to confirm what materials your body is most likely to respond positively too.)
The only way to know for sure if a holistic dentist is right for you is to visit one yourself. Schedule an appointment to learn more about what holistic dentistry has to offer!
About the Author
Dr. Douglas Green has been practicing holistic dentistry since 1999. He maintains membership in many organizations that keep him updated on the latest advances in dental materials and technology. These include the International Academy of Oral Medicine and Toxicology and the American Academy of Ozonotherapy. He's also an evaluator at the CR Foundation, which focuses on the efficacy of dental materials. To learn more about his practice, you can contact him through his website.
Comments Off

on Family Dentist Explains Why He Practices Holistic Dentistry
No Comments
No comments yet.
RSS feed for comments on this post.
Sorry, the comment form is closed at this time.