October 19, 2019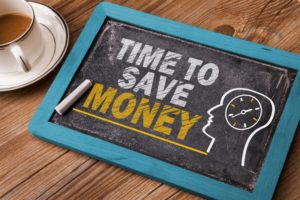 This time of the year, you're probably thinking about the holidays—visiting family that you don't see often, enjoying all of your favorite traditional treats, and hearing those songs that will soon be everywhere. But, on top of all that, you should be thinking about your dental insurance as well. Why? On January 1st, 2020, any remaining money you have on your 2019 plan will expire, which means a lot of benefits you've already paid for could be lost. How can you make sure this doesn't happen to you? A holistic dentist is here to explain.
Why You're About to Lose Money
Your dental insurance plan, like most others, probably has what is called a yearly maximum. This is the most a plan will pay for care in a given year, and while this can vary, the national average is about $1,250 per person. What most people don't know, however, is that once the end of the year rolls around, any money left on that maximum does NOT rollover. Even if you have $500 left on your maximum, it will go straight back to the insurance company at the beginning of 2020. Every year, Americans lose over 100 BILLION dollars in dental insurance benefits this way. Fortunately, you still have time to use your plan before it expires, and here are two great ways to do it.
Get a Checkup & Cleaning Before the Holidays
Nothing ruins holiday cheer faster than an unexpected dental problem. Thankfully, you can make sure your plans aren't thrown off by a surprise toothache by getting a checkup and cleaning before the season really gets into high gear. Most dental insurance plans largely or completely cover two checkups and cleanings each year, and they are essential for helping your family dentist find small issues so they can treat them quickly. If you've only had one so far this year, be sure to schedule another. This will save you a lot of headaches down the line!
Restore Your Tooth & Save
Did you know that your deductible doesn't rollover into 2020, too? That means you'll need to pay it again before you gain access to your dental insurance benefits. If you have a tooth in need of repair, it's better for both your smile and your wallet to do it right now. Oral health problems only tend to get worse the longer you wait, and after January, you'll have to pay your deductible before your plan will cover part of your treatment.
With all the holiday foods and photos that are inevitably coming your way, the last thing you probably want to worry about is your teeth. That's why it's smart to go visit your dentist and use up your dental insurance benefits before the end of the year. That way, you can have a smooth and stress-free holiday season, plus you'll have the peace of mind that you're saving as much as possible on your dental care.
About the Author
Dr. Douglas Green is a family and holistic dentist based in Blaine who has been practicing for over 20 years. As a holistic dentist, he likes to provide dental care that looks at the big picture, so in addition to protecting and restoring his patients' oral and overall health, he also makes sure their dental visits are always affordable. That's why his practice is happy to accept all dental insurance plans and even file the claims. To learn more about everything you've just read or schedule an appointment, click here.
Comments Off

on Your 2019 Dental Insurance Benefits Are About to Expire!
No Comments
No comments yet.
RSS feed for comments on this post.
Sorry, the comment form is closed at this time.