February 4, 2020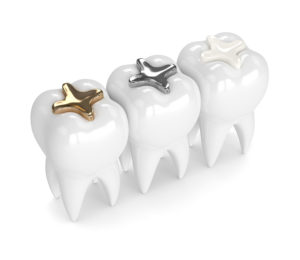 Metal dental fillings have been used to restore decayed teeth for well over 100 years, but these days many men and women are opting for metal dental filling removal. Why? Well, for starters, the dark color of metal fillings does not blend in with a person's natural smile, making it highly noticeable when speaking or laughing around others. However, there are also emerging health concerns connected to the mercury contained in metal dental fillings. Do you have fillings made from metal on your teeth? Keep reading to find out why some dentists strongly recommend metal-free restorations.
Do My Metal Fillings Contain Mercury?
Many people are unaware of this fact, but ALL metal dental fillings contain mercury. Metal fillings, sometimes called "silver fillings," are usually composed of 45% to 55% mercury mixed with a combination of metals such as silver, tin and copper. This type of dental amalgam is typically the least expensive filling material for dental restorations.
Are Metal Dental Fillings Safe?
While the American Dental Association considers metal dental fillings to be safe, many countries across the globe have moved to ban or restrict the use of mercury in dental restorations due to health risk concerns.
According to the International Academy of Oral Medicine and Toxicology, the use of mercury in metal dental fillings poses risks to both human health and the environment. Inhaling mercury vapor is known to produce harmful effects on the lungs and kidneys, along with the nervous, digestive and immune systems.
In addition to concerns about their toxicity, metal fillings may pose other risks to long-term dental health. Metal amalgams are temperature-sensitive and can expand and contract when they come into contact with very hot or cold food or drinks. Over time, this expansion and contraction can contribute to tooth sensitivity or even lead to enamel fractures.
What Are the Alternatives?
Fortunately, there are modern alternatives to metal dental fillings that can revitalize dental function without using potentially toxic materials. More and more patients in Blaine and across the country are choosing the following mercury-free restorations:
Metal-Free CEREC Restorations – CEREC crowns, inlays and onlays are milled from tooth-colored dental porcelain. These natural-looking, durable restorations can be prepared in just a single visit to a dentist!
BPA-Free Composite Resins – Perfect for small cases of decay or replacing older metal fillings, composite resins are "glued" directly to the surface of the tooth to keep out harmful bacteria. Composite resin restorations usually require less preparation than silver mercury fillings and will never crack a tooth when exposed to extreme temperatures.
Do you currently have metal dental fillings on your teeth? Whether you do not like the way they look or have concerns about the potential health risks, you should talk to a dentist in Blaine today about metal dental filling removal.
About the Author
Dr. Douglas Green is an environmentally-friendly and holistic dentist committed to providing quality dental care to the Blaine community. An active member of the International Academy of Oral Medicine and Toxicology, Dr. Green uses only the safest dental materials for his patients. Find out more about Dr. Green and metal-free restorations by visiting the Imagine Smiles website or calling 763-269-8650.
Comments Off

on Why Your Neighbors Opt for Metal Dental Filling Removal
No Comments
No comments yet.
RSS feed for comments on this post.
Sorry, the comment form is closed at this time.