March 23, 2020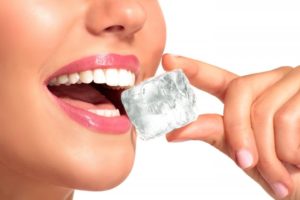 With all the stress of the COVID-19 pandemic, the last thing you want to deal with is a dental emergency. Although your dentist is still open to treating these situations, you'll want to avoid all that panic and confusion if you can. To help prevent needing an emergency dentist, we've written this guide on what to eat to avoid dental emergencies.
Popcorn
This delicious buttery snack is not as innocent and healthy as it seems. Popcorn husks can get stuck between your teeth or in your gums, which can cause a painful infection. However, the real culprit here is the kernels. All it takes is one bite on a crunchy kernel and you could wind up with a severe crack or chip in your tooth. If you're going to eat popcorn, chew it slowly to avoid kernels at all costs. It also helps to floss afterward to remove any wayward husks.
Sticky Candies
Items like gummies, taffy, and caramel can spell disaster for your pearly whites. Not only are they usually chock full of cavity-inducing sugar, but they can latch onto any restorations you have (like crowns, bridges, or fillings) and yank them loose, leaving your underlying tooth vulnerable.
Ice Cubes
You might enjoy chewing on ice cubes to cool down on a warm spring day, but doing so can seriously harm your teeth. Chewing on ice essentially has the same effect on your teeth as munching on a rock. Ice is extremely hard on your enamel (the outermost layer of your teeth), and can result in painful chips and cracks.
Hard Candies
Sucking on hard candies like lollipops literally bathes your teeth in sugar, increasing your risk of developing cavities and gum disease. In addition, biting down on these candies can wreck your teeth. You're better off avoiding them altogether.
Almonds
Almonds are rich in healthy nutrients that your teeth and gums need to stay healthy. However, if you're not careful, they can cause tooth fractures. Instead of eating an almond whole, try cutting them into slivers or slices, since then they'll be less likely to injure your pearly whites.
If you're looking for mouth-healthy snacks to replace these items, try fresh fruits and vegetables if you can get them. Dairy products like cheese and low-fat yogurt are also great options since they're high in calcium, which strengthens teeth. Lastly, if you get the urge to chew on ice, pop in a piece of sugarless gum instead. It will clean your teeth while also satisfying your craving to chew on something.
About the Author
Dr. Douglas Green is a holistic dentist in Blaine, MN. He averages 75+ hours of continuing education courses a year, which is five times the amount required by the state of Minnesota. His practice is still open for treating dental emergencies, even those caused by eating the wrong thing. If you think you might have a dental emergency, don't hesitate to contact Dr. Green's practice at (763) 269-8650.
Comments Off

on What to Eat to Avoid Dental Emergencies
No Comments
No comments yet.
RSS feed for comments on this post.
Sorry, the comment form is closed at this time.