April 20, 2020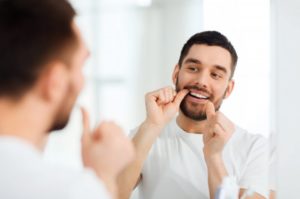 Out of concern for the health and safety of both patients and dental team members, many dental offices are temporarily closed. In some areas, local law has even required that dental offices suspend their normal operations. While that is certainly an excellent precaution for supporting social distancing and fighting the spread of COVID-19, it may leave you wondering how you can maintain a healthy mouth until you are able to see your dentist again. Use these tips on oral hygiene during COVID-19 to protect your smile.
Brush Correctly
You are probably already in the excellent habit of brushing your teeth twice a day, but it never hurts to pause to consider if your brushing is as effective as it should be. Ask yourself:
When was the last time I replaced my toothbrush? If it has been more than three months, or your brush is looking a little frayed, it's time to buy a new one.
Am I using the right type of toothbrush? Electric toothbrushes deliver much more efficient cleaning power than manual ones.
How long do I brush my teeth? You should brush for at least two minutes, spending about 30 seconds on each quadrant of your mouth.
Do I clean the backs of my teeth? Many people only brush the outward facing portions of their teeth. Be sure to clean their backs, as well as the area along the gumline.
Floss Properly
You should floss once a day in order to clean the tight spaces between your teeth that your toothbrush cannot reach. To floss correctly, you begin with a string of floss that is about 18 inches in length. As you move around your mouth, continually switch to a clean portion of floss. You should also rub the floss against each tooth in a motion that creates a "C" shape, rather than just quickly inserting the floss and pulling it out.
Don't Neglect Your Tongue
Cleaning your tongue is important because harmful, odor-causing bacteria can collect between the papillae (small bumps on the tongue). You can keep your tongue fresh by giving it a gentle scrub with your toothbrush after you clean your teeth. It's also a good idea to use a tongue scraper, a simple and inexpensive tool that removes debris as you slide it from the back of your tongue to the front.
Cut Back on Quarantine Snacks
If you are spending a lot of time at home during the COVID-19 crisis, it may be all too easy to overindulge in snacking. Frequent eating exposes your teeth to continual acid attacks, especially if you tend to gravitate toward sugary treats or even fruit. Chewing on sugar-free gum, sipping lots of water, and finding productive activities to fill your time can all help you cut back on snacking.
Your dentist's office will reopen soon. In the meantime, use the tips in this article to maintain a healthy smile during COVID-19.
About the Author
Dr. Green is a holistic dentist in Blaine. He earned his DDS in 1999 from the University of Iowa College of Dentistry. He has continued to advance his education in the years since then, acquiring special skills in many facets of his profession. He looks forward to seeing his patients again soon. You may contact our team at 763-269-8650 to request an appointment or learn about the steps we are taking to fight COVID-19.
Comments Off

on Maintaining a Healthy Mouth Until Your Dentist Reopens
No Comments
No comments yet.
RSS feed for comments on this post.
Sorry, the comment form is closed at this time.