July 8, 2020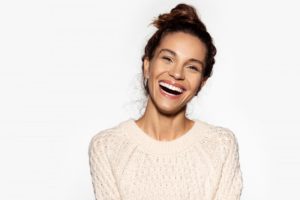 You know what they say, "There is always a reason to smile; you just have to find it!" While smiling is known for boosting your mental health and feelings of positivity, it can do more than just that. In fact, decades of research have compiled an extensive list of the benefits of smiling. Read on for five surprising powers of a smile and how porcelain veneers in Blaine can give you a reason to flash your pearly whites every day!
5 Powers of a Smile
Smiling can make you look 10 years younger – Decades of research has proven the benefits of smiling. However, a recent study on a group of college students found that facial expressions heavily impact the perception of someone's age. In fact, those who smiled were perceived to be 5 to 10 years younger than those who had a neutral or angry expression.
Smiling can make you look thinner – In addition to a more youthful appearance, those who smile are seen as more in shape. On the other hand, pictures that had models frowning were perceived to be more overweight than they were.
Smiling creates a ripple effect of positivity – According to Forbes, our natural inclination to mimic the facial expressions of those around us impacts our intentions and feelings. Therefore, your smile can create a ripple effect of positivity that causes the people around you to experience a boost in their mood!
Smiling is a natural stress-reliever – When you smile, your body naturally releases cortisol. This hormone plays a vital role in your "fight or flight" response. However, high levels of cortisol can lead to negative health conditions, like high blood pressure. By smiling, your body helps those levels remain balanced!
Smiling leads to a better first impression – Did you know that 33% of Americans said the first thing they notice about someone is their teeth? Also, those who smiled more were described with positive adjectives, like courteous, likable, and competent. On the other hand, those who frowned were perceived as untrustworthy and unapproachable.
Achieving the Perfect Smile with Porcelain Veneers
According to the American Association of Orthodontics, over one-third of Americans are unhappy with their smile. While decades prior would require metal braces, teeth-whitening treatments, and crown/bridge placements, patients today can use porcelain veneers to achieve their dream smile. In fact, in as little as two visits, porcelain veneers can:
Straighten misaligned teeth.
Restore missing teeth or gaps in your smile.
Strengthen weak or loose teeth.
Make all your teeth the same length.
Provide you with a bright, white smile.
The benefits of smiling are undeniable. Fortunately, innovations in technology and modern dentistry can provide patients of all ages and backgrounds straight, healthy, beautiful teeth. In as little as two visits, you can walk out of your dentist's office with a smile that turns heads for all the right reasons!
About the Author
Since graduating from the University of Iowa College of Dentistry, Dr. Green has spent the last two decades providing world-class dental care to the community of Minneapolis/St. Paul. Each year, he completes over 75 hours of continuing education (which is five times the requirement for dentists in Minnesota!). Dr. Green is also an active member of multiple respected organizations, including the Academy of General Dentistry, and a product evaluator for the prestigious CR Foundation. If you would like to speak with Dr. Green about improving your smile with porcelain veneers, visit his website or give him a call at 763-269-8650.
Comments Off

on 5 Surprising Powers of a Smile
No Comments
No comments yet.
RSS feed for comments on this post.
Sorry, the comment form is closed at this time.