September 2, 2020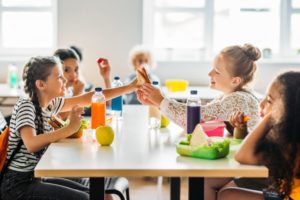 Over the last decade or so, children's health has become a popular topic of discussion in America. However, this dialogue has mainly been focused on reducing kids' caloric intake. Very few people are talking about how various foods affect children's teeth. In fact, some foods that are marketed as healthy may actually contribute to cavities! Let's look at how school lunches may affect your little one's pearly whites.
It's Easy for School Lunches to Cause Cavities
Cavities develop when the bacteria naturally present in your mouth feed on sugars in the foods and drinks you consume. The bacteria then create an acidic waste product that leaves holes, or cavities, in tooth enamel. Frequently eating sugary lunches, especially when your child can't brush their teeth afterward, can wreak havoc on their oral health. Even foods that are often seen as healthy, such as granola bars and dried fruit, contain high amounts of sugar that can contribute to tooth decay.
Which Is Better: Cafeteria Lunches or Packed Lunches?
While one choice isn't inherently healthier than the other, there is a case to be made for packing a lunch for your son or daughter to bring. School vending machines are often stocked with sugary options. Additionally, kids are often offered unhealthy food and drink choices in their cafeteria, and they usually don't have the knowledge or motivation to make the healthiest selection. By packing a lunch, you can at least have some idea of the nutritional value of what your little one is eating.
If your child is in the National School Lunch Program, ask the school to let you review the menu. If the items being supplied don't meet your standards for a tooth-healthy lunch, contact the school administrator to voice your concerns. You might be able to make a difference in the school's food choices and improve the health of hundreds of kids!
How to Pack a Mouth-Healthy Lunch
Here are some tips to decrease your child's risk of cavities as a result of an unhealthy lunch:
Include dairy products such as cheese, milk, and low-fat yogurt. They're rich in calcium and proteins that strengthen teeth.
Fresh fruits and vegetables with fibrous skins, like apples, carrots, and celery, naturally teeth clean as they're chewed. Pack some and instruct your child to eat them last to clean food debris off their teeth.
Encourage your little one to drink water instead of juice so that sugar gets rinsed off of their teeth.
Include a piece of sugar-free gum. Chewing it after lunch will stimulate saliva flow, washing away leftover food particles.
As a parent, you naturally want the best for your child, and that includes what's best for their teeth. For more tips on how to make school lunches more mouth-healthy, ask your child's dentist.
About the Author
Dr. Douglas Green is a holistic family dentist in Blaine, MN who obtained his Doctor of Dental Surgery degree in 1999 from the University of Iowa College of Dentistry. He takes more than 75 hours of continuing education courses a year, which is five times the requirement for dentists in Minnesota. He is also happy to treat patients of all ages. If you want to learn more about school lunches and children's dentistry in Blaine, contact Dr. Green at 763-269-8650.
Comments Off

on Is Your Child Eating a Mouth-Healthy School Lunch?
No Comments
No comments yet.
RSS feed for comments on this post.
Sorry, the comment form is closed at this time.