October 9, 2020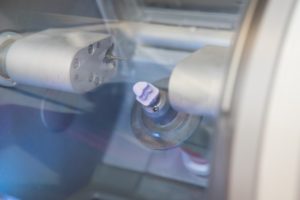 Same-day dental crowns in Blaine are quickly becoming a popular option for individuals with broken and weakened teeth. Unlike traditional restorations that require patients to wait weeks to receive their final crown, these newer, more advanced solutions produce custom-made prosthetics in just one appointment. But that's not the only benefit they offer. Read on to discover a few more interesting facts that can help you decide if this restorative treatment is right for you.
You Get to Keep More of Your Natural Tooth
Using CEREC (Chairside Economical Restoration of Esthetic Ceramic) dental crowns, your dentist will only need to remove the damaged areas of your tooth, allowing you to keep more of the natural structure. Traditional crowns often require far more to be removed in order to make room for the permanent restoration. Fortunately, your dentist can design the prosthetic in a way that only replaces the weakened area, allowing the tooth to regain nearly all of its strength over time.
You Don't Have to Worry About Messy, Cold Dental Putty
Instead of having cold, messy dental putty shoved into your mouth to create an impression, CEREC technology allows your dentist to use a handheld, pen-like device to quickly scan your mouth and produce a high-quality impression of the tooth-in-question. Not only is this far more comfortable for you, the patient, but it also allows for greater accuracy during treatment planning as well as when your dentist is designing your custom-made dental crown.
CEREC Technology Ensures a Perfect Fit
Traditional dental crowns are crafted in a lab by technicians. While most cases produce proper, comfortable fitting restorations, there are times in which the final version requires a few minor alterations. With CEREC, your dentist will use the advanced technology to produce a 3D model of your broken tooth in Blaine and construct a prosthetic that will fit perfectly over the weakened tooth. During the planning and designing stage, they will watch how the crown interacts with nearby teeth. By tweaking how thick the crown is as well as the overall shape, they can ensure proper specifications and detail are set to the milling unit where the restoration will be created.
You Don't Need to Buy Additional Products to Maintain Your Crown
When you go home and start taking care of your same-day dental crown, you won't need to worry about purchasing special products or equipment. You will take care of it the same way you would a traditional crown. By continuing with your regular oral hygiene routine of brushing with a soft-bristled toothbrush twice a day for two minutes, you will also need to floss at least once a day and rinse with an antimicrobial mouthwash. And don't forget to keep your regular six-month dental checkups and cleanings to allow your dentist to review your restoration and ensure it is in good shape.
What the decreased wait time for a same-day dental crown is one of the most prominent benefits, these unique restorations offer far more than you think. If you are interested in the idea of receiving a CEREC crown for your weakened tooth, don't be afraid to ask your dentist.
About the Author
Dr. Douglas Green earned a bachelor's degree in biology from St. Olaf College in Northfield, MN, before going on to earn a DDS from the University of Iowa College of Dentistry. Since 1999, he has been practicing in the Minneapolis/St. Paul metro area. He and Dr. Landon Case work together to lead the team at Imagine Smiles in Blaine, MN. Offering patients unique and advanced treatments such as same-day dental crowns, they can quickly repair and restore smiles without the unnecessary wait time. If you or a loved one have a weakened tooth and are interested in learning if you are a qualified candidate for CEREC crowns, visit our website or call (763) 269-8650.
Comments Off

on 4 Things You May Not Know About Same-Day Dental Crowns
No Comments
No comments yet.
RSS feed for comments on this post.
Sorry, the comment form is closed at this time.