November 14, 2020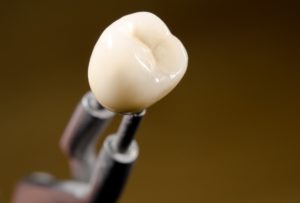 If you need a crown, you might expect to need multiple appointments with your dentist to receive your permanent restoration. In the past, the process of getting a crown required more than one visit; however, you can get the restoration you need in just one day using state-of-the-art technology. From start-to-finish, you can receive a high-quality CEREC crown in Blaine during your lunch break.

Traditional Crowns VS CEREC Crowns
The process of receiving a traditional crown requires various steps. After an initial consultation with your dentist, you're scheduled for the first half of your treatment. Your tooth is prepared by removing any areas of damage and reshaping it to allow the crown to fit over its surface. Your dentist will take an impression of your mouth, which is needed for the dental lab to create your restoration. The process can take a couple of weeks, so a temporary crown is needed. After your permanent crown is ready, you return to your dentist for a second appointment to have it bonded to your tooth.
CEREC streamlines the entire process, so you don't need multiple appointments. Your tooth is prepared, and then your dentist takes a digital impression. This creates a 3D image of your tooth, which integrates with CAD/CAM software. The elite technology allows your dentist to design your crown to meet your exact specifications to minimize any room for error. The information is sent to an in-office milling machine where your crown is cut from a single block of all-ceramic material. There isn't any need for a temporary restoration or a second appointment.
How Long Does It Take to Get a CEREC Crown?
After your tooth has been prepared, you can have your permanent restoration ready for bonding in about 1 hour. You will have your tooth treated and receive your final crown in just one day to save time. Don't worry, your restoration will be durable to last for several years with the right aftercare.
What are the Benefits of a CEREC Crown?
When compared to traditional crowns, those made using CEREC technology offer several advantages, such as:
Natural-looking to blend in with your real teeth.
Durable to withstand the pressure of chewing.
No messy impression when using digital technology.
No temporary crown is necessary.
Minimal room for error.
Results in a single appointment.
Covered under many dental insurance policies.
Schedule Your Appointment Today!
If you have a damaged or compromised tooth, you might be a candidate for a CEREC crown. You can benefit from the latest innovations in dentistry to get the restoration you need in a single appointment.
About Dr. Green
Dr. Green earned his dental degree from the University of Iowa College of Dentistry. He completes over 75 hours of continuing education every year. He combines his experience with the latest advancements in dentistry to enhance the care his patients receive. If you need a dental crown, his office uses CEREC technology to improve his patients' smiles. Contact our office today to schedule your consultation to get a crown in one day.
Comments Off

on Save Time with a CEREC Crown in Blaine
No Comments
No comments yet.
RSS feed for comments on this post.
Sorry, the comment form is closed at this time.