March 1, 2021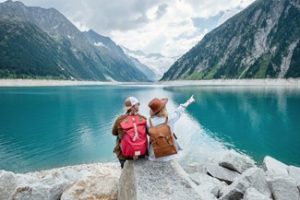 For many, preparing for a trip can be stressful. Remembering to pack the right amount of clothing, packing the right toiletries and making sure to grab your hair products can be tough. But when you have the additional responsibility of an orthodontic treatment, it is definitely smart to keep your dental care items at the top of your list. Here are 4 easy ways to help keep your progress on track while traveling with Invisalign.
Check in with Your Dentist
Asking your dentist any specific questions before you leave will save you quite a bit of stress if something unexpected occurs during your trip. Any worries or concerns you may have can likely be resolved in a simple call. If you need any issues with your aligner trays corrected, you might want to stop in for a visit rather than making a call.
Pack Your Next Set of Aligners
Most Invisalign wearers replace their aligner trays every two weeks. The last thing you want to happen is to be stuck somewhere without your next set of trays. It could end up setting your treatment back by months! Even if you only expect to be gone for the weekend, knowing that you have your next set of aligners available can minimize any worries you might have about keeping your treatment on track.
Keep Up with Your Regular Dental Care Routine
Though you're on a break from work or school, you should not take a break from your regular dental care routine. Like with any orthodontic treatment, you will soon get into the habit of brushing your teeth after every drink, snack and meal. Carrying a small bag with your Invisalign case, floss, a toothbrush, toothpaste and mouthwash with you during your trip is a great way to make dental care easy. Don't forget to your Invisalign cleaning products and small disposable cups! You should still be sure to soak your aligners once a day.
Keep Bottled Water Nearby
Eating while you travel, even if it's just a quick snack, is very common. If you can't brush your teeth after eating or drinking, you can at least swish some water around in your mouth to remove any food particles and sugar before putting your trays back onto your teeth.
Taking care of your teeth just as you would if you were at home and wearing your trays for 20-22 hours each day are crucial to avoiding any setbacks in your treatment. If you do have questions or problems while you're away, don't hesitate to give your dentist a quick call. They will be happy to help!
About the Author
At Imagine Smiles, Drs. Douglas Green and Landon Case are committed to helping every patient who enters their doors achieve their best and brightest smiles. Dr. Green earned his Doctor of Dental Surgery degree from the University of Iowa College of Dentistry in 1999 and has been transforming smiles in the Minneapolis/St. Paul area ever since. Dr. Case obtained his Doctor of Dental Surgery degree with High Distinction from the University of Minnesota School of Dentistry. With their extensive knowledge, they are able to offer various dental services that range from general dentistry to laser dentistry therapy and cosmetic dentistry treatments. If you are planning a trip and have questions about your Invisalign treatment, contact the office at (763) 269-8650 or visit the website and schedule an appointment today.
Comments Off

on How to Keep Your Invisalign Treatment on Track While Traveling
No Comments
No comments yet.
RSS feed for comments on this post.
Sorry, the comment form is closed at this time.