May 21, 2021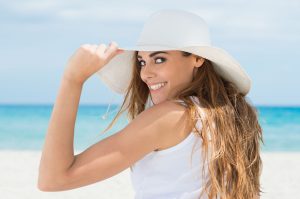 If you're like most people, you've been waiting all year for summer to finally arrive. Whether you're traveling to a tropical destination, sunbathing by the neighborhood pool, or simply spending time with your friends and family, you probably have all sorts of fun activities planned for this summer. As great as this time of year is, though, you shouldn't let the health of your smile fall by the wayside. To ensure your smile stays healthy and bright all summer long, follow these five summer oral health tips in Blaine.
1. Limit Sugary Beverages
When you've been out in the sun for hours, it can be tempting to rehydrate with a classic summer beverage like lemonade, soda, fruit juice, or a sports drink. However, drinks like these have high concentrations of sugar. Constantly sipping on them throughout the day exposes your teeth to these sugars over and over again, making you more vulnerable to cavities and gum disease. By limiting your consumption of sugary drinks, you'll also limit your risk of spending your summer in the dentist's chair!
2. Use a Straw
If you're going to drink sugary beverages, sip them through a straw whenever possible. This minimizes their direct contact with your teeth. Not only does this reduce your risk of dental health problems, but it prevents stains from setting in.
3. Drink Plenty of Water
Water is by far the best way to stay hydrated in the summer. In addition to benefiting your overall well-being, water rinses away plaque from your teeth as well as food particle left behind after meals or snacks.
4. Keep Up with Your Oral Hygiene
Most people's routines change a bit once summer starts, especially if you have kids who are out of school now. Regardless, try your best to maintain your usual oral hygiene habits. Brush your teeth twice a day for two minutes at a time and floss every night before bed. If you really want to make your pearly whites sparkle, now is a great time to schedule your next dental checkup and cleaning!
5. Don't Use Your Teeth as Tools
Your teeth were made to help you chew food, and nothing else. Using your teeth to open packages or soda bottles can send you straight to an emergency dentist's office with a painfully broken tooth. The same goes for chewing on ice – it might help you stay cool, but it can chip or crack your teeth. Try sucking on ice cubes instead to help you cool down.
Summer is the perfect time to create memories with your loved ones that will last for years to come. Don't let dental problems tarnish those memories! Instead, stick to these summer oral health tips in Blaine to make sure your smile is in good shape the entire time.
About the Authors
Dr. Douglas Green and Dr. Landon Case are dedicated to helping every patient who enters their doors at Imagine Smiles achieve and maintain healthy smiles they can be proud of. Dr. Green obtained his Doctor of Dental Surgery degree in 1999 from the University of Iowa College of Dentistry. Dr. Case earned his Doctor of Dental Surgery degree with High Distinction from the University of Minnesota School of Dentistry. With their combined knowledge, they provide various dental services, from preventive dentistry to advanced cosmetic treatments. To learn more about keeping your smile healthy this summer, contact Imagine Smiles at (763) 269-8650 or visit the website.
Comments Off

on 5 Tips to Keep Your Smile Healthy This Summer
No Comments
No comments yet.
RSS feed for comments on this post.
Sorry, the comment form is closed at this time.