December 28, 2021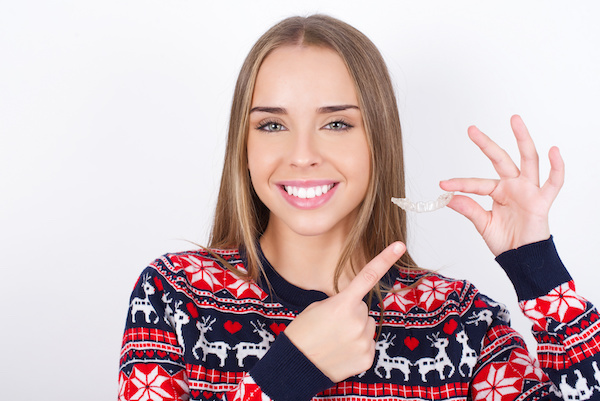 You thought getting braces would be the end of the gaps, crowding, and other imperfections that affected the alignment of your teeth. But, if you're like most people, you may notice that your teeth settled back into their former position over time once you stopped wearing your retainer. Wondering if you can get Invisalign after braces to regain your perfect smile? The answer is yes – keep reading to learn how it works, and whether or not this is a good option for you.
What Is Invisalign?
Invisalign is an orthodontic treatment that uses a series of clear aligners to gradually shift the teeth into the optimal position over the course of several months. The aligners are customized to fit your teeth at each stage of the treatment, putting slight pressure strategically at different points to correct gaps, crowding, and other common orthodontic issues.
How Does Invisalign Work After Braces?
Invisalign may be a good option for people whose teeth have gradually shifted back into the original position after treatment with braces has been successfully completed. This often happens when people fail to wear their retainer as recommended. Fortunately, Invisalign is perfect for mild misalignments, which is usually the case after treatment with conventional braces.
The advantages of undergoing Invisalign at any time include:
Faster treatment time
Clear aligners blend in with the natural smile
Easier to brush and floss thanks to removable aligners
Can be removed for special events, as long as they are worn 20-22 hours each day
Invisalign is more comfortable than metal braces
Is Invisalign After Braces a Good Option for You?
To understand if you can undergo the Invisalign treatment, your dentist will evaluate your teeth and discuss your options with you. Most people who wish to correct imperfections that arise because they have failed to wear their retainer are good candidates for Invisalign.
Of course, you will need to wear your retainer after you complete your Invisalign treatment to ensure that your results last. The Invisalign retainer is clear, just like the Invisalign trays, so you can feel confident that no one will know you are wearing a retainer when you do.
Meet the Practice
Dr. Green and Dr. Case of Imagine Smiles team up to provide excellent dental care for patients of all ages. They use the latest technology and comforts to ensure that patients receiving Invisalign and other treatments receive the utmost in care. To learn more or to schedule an appointment, give them a call at (763) 269-8650.
Comments Off

on Can Invisalign Fix Teeth That Have Shifted After Braces?
No Comments
No comments yet.
RSS feed for comments on this post.
Sorry, the comment form is closed at this time.