January 12, 2022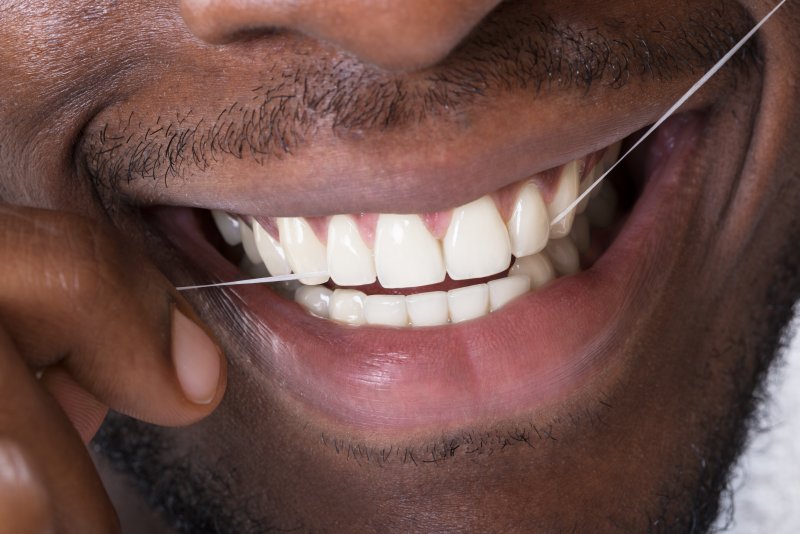 If you have alignment issues, bit problems, or gaps between your teeth, Invisalign can help correct these things to give you a more beautiful smile. These clear aligners blend in seamlessly with your smile and are an excellent way to correct problems without drawing too much attention. As useful as Invisalign is, you can't just pop on your aligners and let your oral hygiene suffer. If you need help flossing with Invisalign, read on to learn why it's so important and the proper technique.
The Importance of Flossing
Though many people have heard time and time again how important it is to floss their pearly whites every night before bed, only about 30% of Americans actually do it. Brushing alone isn't enough to remove all the plaque that buildups up on your teeth throughout the day. In fact, 40% of the plaque on your pearly whites is missed without flossing. Though wearing Invisalign is an extra thing to think about when performing your oral hygiene routine, it's important to keep your mouth healthy so you don't experience any treatment delays.
How to Properly Clean Your Teeth with Invisalign
Now that you know why flossing your teeth every day is so important, what's the proper technique for people who are undergoing Invisalign treatment? To clean your pearly whites with Invisalign, follow these four steps:
Step #1: Remove your aligners – This may be obvious, but the first step in flossing with Invisalign is to take off your aligner trays. Soak them in a cleaning solution made specifically for Invisalign or one made for dentures or retainers. This will remove bacteria that have accumulated on them throughout the day.
Step #2: Brush your teeth – Every time you finish a meal, brush your teeth along with flossing to move food particles. If you don't, they'll get trapped behind your aligners and increase your chances of developing cavities. Use fluoride toothpaste to strengthen your teeth and a soft-bristled toothbrush to avoid damaging your enamel.
Step #3: Rinse your mouth – Rinse with water to loosen up any food particles that you didn't get when brushing.
Step #4: Floss your teeth – Take an 18 cm long piece of dental floss so you have enough to hold. Wrap the ends around your fingers and leave a few inches to slide between your teeth. Slowly work your way towards the gum line, moving the dental floss around your teeth in a "C" shape. Use an up and down motion and repeat these steps until your teeth have been thoroughly cleaned.
Put your aligners back on once you're done flossing, and enjoy the feeling of accomplishment that comes with knowing that you're taking good care of your pearly whites!
About the Practice
Imagine Smiles aims to help patients learn to love their smiles by teaching them the proper way to care for their pearly whites. If you don't like how your smile looks due to gaps, alignment issues, or bite problems, they offer Invisalign clear aligners to correct these issues. Additionally, if you need help caring for your teeth while undergoing treatment, they can show you how to brush and floss so you can finally achieve the gorgeous grin of your dreams! To schedule an appointment or if you have questions about flossing with Invisalign, call (763) 269-8650 or visit their website.
Comments Off

on How to Floss with Invisalign
No Comments
No comments yet.
RSS feed for comments on this post.
Sorry, the comment form is closed at this time.