October 10, 2022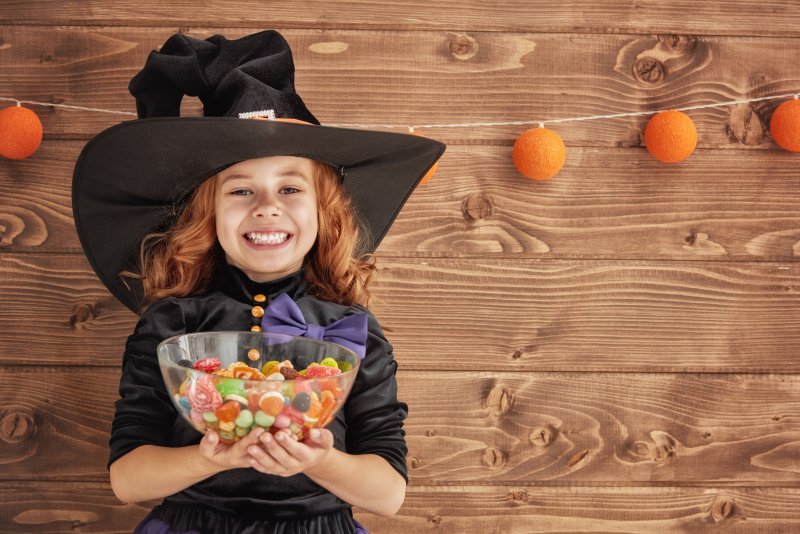 Spooky season is just around the corner! Now that it's almost Halloween night, your child may be excited to collect all the candy they can get from trick-or-treating. While munching on one or several candies during this time is all part of the fun, you'll want to make sure to keep your little one's smile safe and healthy once the festivities are over. Read on to learn about the best and worst sweet treats for your child's teeth and how to prevent cavities after Halloween.
The Best Halloween Candies for Your Child's Teeth
Although it's best to avoid sugary treats altogether to protect your child's pearly whites, some options may be more beneficial than others, including:
Sugar-free candy: Dental decay is typically associated with heavy amounts of sugar, so it's easy to see why sugar-less treats are a better alternative.
Candy bars with nuts: Is your child safe to eat nuts? If so, they can try munching on candies containing almonds and cashews for a more nutritional option. Not only are they filled with fiber and protein, but their consistency can even help remove sticky candy, like caramel.
Chocolate: Unlike other snacks, chocolate won't stick to your little one's smile. Encourage them to eat dark chocolate, as these have less sugar and contain antioxidants. Other options involve candies like milk chocolate bars and peanut butter cups.
The Worst Candies for Your Child's Smile
Now that you're aware of some of the best sweet treats, here are several candies you'll want to watch out for:
Hard snacks: Candies like lollipops or jawbreakers can do some serious damage to your child's smile. One wrong bite and they can end up with a chipped or cracked tooth. Also, the longer they keep it in their mouth, the more time their teeth remain covered in sugar.
Sour sweets: Sugary treats that are sour typically have acids that can wear down the enamel, making your little one vulnerable to dental decay.
Gummy candies: These snacks can remain lodged in your child's teeth, increasing the risk of cavities.
Oral Hygiene Tips to Practice This Halloween
While candy is one of the biggest culprits of cavities, you don't have to keep your little one away from their favorite treats altogether. Instead, you can help preserve their oral health by providing them with well-balanced meals every day. They should also be encouraged to practice good oral hygiene, which includes brushing twice a day and flossing daily. Most importantly, make sure to schedule their dental checkups and cleanings every six months. Your dentist will be able to monitor their teeth and gums, providing the necessary treatment to stop any developing issues early on.
Halloween is a time for costumes, scary movies, festivities, and candy! By keeping these few tips in mind, you'll be able to help your child enjoy their favorite treats while also maintaining a healthy smile!
About the Author
Dr. Green earned his dental degree from the University of Iowa College of Dentistry. He's also a member of numerous organizations, such as the Academy of General Dentistry. He provides a wide variety of high-quality services, including children's dentistry and checkups/cleanings. If you'd like to schedule an appointment for your child, visit his website or call 763-269-8650.
Comments Off

on The Best & Worst Halloween Candies for Your Child's Smile
No Comments
No comments yet.
RSS feed for comments on this post.
Sorry, the comment form is closed at this time.