April 27, 2023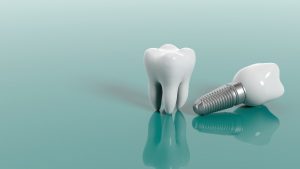 500,000 people every year are choosing dental implants to replace their missing teeth. As the only method to recreate both the root and the crown, a dental implant closely looks and feels natural. Not to mention, with over a 95% success rate and a lifespan of 30 years or more, they are the smart choice to treat tooth loss. If you're ready to invest in the next best thing to your real teeth, a consultation with your dentist is your first step. They may use a few unfamiliar phrases. Don't worry, here are the most common dental implant terms you should know before your consultation.
Abutment
An appointment is a special attachment that is placed on your implant post to connect your restoration.
All-On-One
All-On-One refers to a type of denture used to treat an entire arch of missing teeth. 4 dental implants are surgically placed into the jawbone to support a custom-made denture.
Bone Graft
A bone graft is a surgical procedure used to enhance the strength of a compromised jaw. Bone from another area of the body or a donor is grafted onto the weakened area to ensure there's a strong, stable foundation for your dental implants.
Dental Crown
Typically, a dental crown refers to a customized cap that's bonded over the entire surface of a tooth above the gum line. However, a crown can also be used to replace a single tooth by attaching it to a dental implant via an abutment.
Dental Implant
A dental implant is a post that's surgically placed into your jaw to serve as a new root. Generally, they are made of titanium, but zirconia is also a common material.
Osseointegration
Your dental implant will stimulate your jaw to encourage new bone growth. Your bone will fuse to the implant through a process called osseointegration. Your bone must integrate with the post for your procedure to be successful.
Sinus Lift
The maxillary sinuses are located on either side of your nose. If too much bone has been lost in the upper arch, a sinus lift can ensure the implant post does not protrude into the cavity. Often, a sinus lift is used along with bone grafting.
If you have any questions during your consultation, or you're not sure what a phrase means, don't hesitate to ask your dentist. They'll explain everything, so you know exactly what to expect on the road ahead.
About Dr. Green
Dr. Green earned his dental degree from the University of Iowa College of Dentistry and has regularly pursued continuing education in various specialties, like dental implants, ozone therapy, and orthodontics. He is a member of many professional organizations, including the Academy of General Dentistry. Request an appointment through our website or call (763) 225-1865 to see if dental implants are right for you.
Comments Off

on An Easy Guide to Dental Implant Terms
No Comments
No comments yet.
RSS feed for comments on this post.
Sorry, the comment form is closed at this time.