June 4, 2023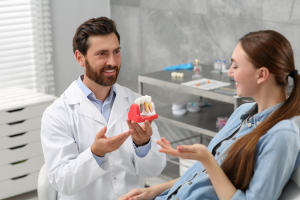 To put it simply, dental implants are the name of the game when it comes to restoring lost teeth! And if you've just gotten them yourself, you're probably feeling pretty pleased to have access to an unrivaled tooth replacement option in terms of look, feel, and functionality. However, you might also be wondering if there's anything you can do to protect your new smile—after all, under ideal circumstances, dental implants can last for several decades! Here are three key lifestyle changes you can consider making to ensure that your dental implants are set up for lasting success.
1. Practice Excellent Oral Hygiene
Although dental implants replace missing natural teeth, they do not replace the need for oral hygiene—in fact, it arguably becomes more important than ever before once your mouth is housing implants. The main threat to your implants is gum disease, which often results from chronically poor oral hygiene. Believe it or not, this can ultimately lead to total implant failure. You should brush and floss on a daily basis and continue to attend your biannual dental checkups—by doing so, you're essentially guaranteeing that your dental implants will remain clean and uncompromised.
2. Kick Bad Oral Habits
It's well-known that smoking is one of the unhealthiest habits you can partake in—it's simply terrible for your lungs, your oral health, and many other parts of your body. But did you know that the habit can greatly threaten your dental implants? Smoking greatly limits your body's healing factor, which means that your implants won't be able to successfully integrate with your jawbone. The result is early implant failure, among other potential nasty oral health issues. It's also worth noting that other poor oral habits including excessive alcohol usage or treating your teeth as tools can also prove detrimental to dental implants. Let dental implants serve as the reason for you finally kicking smoking, chewing tobacco, or any other unfavorable habits that threaten your implants!
3. Try to Lead a Healthier Lifestyle
Eliminating bad oral habits is just part of the equation, though—you must also try to implement healthy and smart lifestyle choices. This starts with a nutritious diet; eat plenty of fruits and veggies, lean proteins, healthy fats, etc., and drink plenty of water in favor of sugary or acidic drinks. It also never hurts to try to maintain optimal body weight by cutting sweets from your diet and regularly exercising. The bottom line is that leading a healthy lifestyle reduces several risk factors associated with conditions such as diabetes or hypertension, both of which can influence the integrity of your dental implants.
Since your dental implants are an important investment that'll be with you for the foreseeable future, it's in your best interest to make sure that you're making key changes in your life to ensure their lasting integrity!
About the Practice
The talented team at Imagine Smiles is excited to offer families in the Blaine, MN community an outstanding level of dental care. They're thrilled to provide patients with a wide variety of restorative services, including dental implants. If you have any questions about dental implants or would like to arrange a consultation to see if you might benefit from them, don't hesitate to contact the practice today! Telephone: (763) 269-8650.
Comments Off

on Easy Lifestyle Changes You Can Make to Help Your Dental Implants
No Comments
No comments yet.
RSS feed for comments on this post.
Sorry, the comment form is closed at this time.