August 11, 2023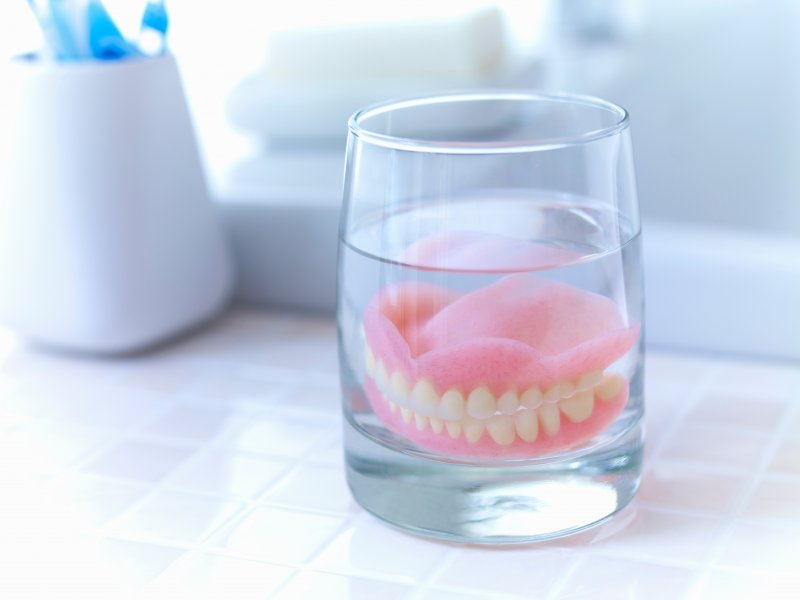 If you're new to dentures, it can be confusing to take care of them properly. They require more diligent care when compared to natural teeth, so you might be completely lost when they start to smell bad despite your best efforts.
Keeping dentures fresh and odor-free is crucial for comfort and confidence. Continue reading to learn five effective ways to ensure your dentures smell fresh and stay dazzling, allowing you to enjoy life without worrying about your smile.
1. Clean Your Dentures Like A Pro
Cleaning your dentures is a little different than cleaning natural teeth. To get the best cleanse possible, you'll need to remove them and brush every surface with a soft-bristled toothbrush and non-abrasive denture cleaner.

Because the formation of bacteria is what causes the odor on dentures, you may consider removing them after each meal and rinsing them under some cold running water to flush out food particles for added freshness.
At night, it's best to leave them in a glass of cold water with a denture tablet to remove stubborn stuck-on foods and surface-level stains.
2. Keep Your Dentures Hydrated
To perform their best, your dentures need to stay moist. Dry dentures can be painful as the prosthetic gum rubs against your mouth. Dehydrated dentures are also more vulnerable to damage as they become brittle when not thoroughly softened, leading to accidental breakage.
Additionally, when your dentures dry out, they are more susceptible to contaminants like bacteria.
3. Practice Good Oral Hygiene
It's not just your dentures that need to be cleaned, it's your whole mouth. If your dentures are sitting in a bad oral biome all day, they will absorb the smells and bacteria from your gums, your remaining teeth, and your tongue.
Brush any natural teeth you have with regular fluoride toothpaste and floss if possible. You should also gently brush your tongue in small circles to remove any odor-causing buildup.

Once you're finished brushing, use a non-alcohol-based mouthwash to rinse and freshen your mouth. Mouthwash containing alcohol is known to dry out your mouth.
4. Invest in an Ultrasonic Cleaning Kit
If you're having trouble getting your dentures as clean as you'd like, you may consider investing in an ultrasonic cleaning kit. This is a small machine that will send gentle vibrations through a special cleaning solution that loosens buildup on your dentures and dissolves it.
Be sure to consult with your dentist if you want to start using an ultrasonic device as they may have specific instructions on the type to buy or how to operate it based on your prosthetic.
5. Visit Your Dentist Regularly
The best way to ensure continued cleanliness for your dentures is to schedule regular dentist visits every six months or so to check the status of your oral health and discuss any issues you may have with your dentures as a whole.

Your dentist can check for potential causes of denture odor like gum disease, tooth decay, infection, or other underlying health problems you may not be able to detect on your own.
With this advice, you can bid farewell to denture odors and feel the confidence that comes with a fresh and clean smile. Maintaining proper denture hygiene will allow you to enjoy the freedom of worry-free dentures and a revitalized attitude in daily life.
About the Practice
Dr. Green and Dr. Landon Case form a distinguished dental practice dedicated to enhancing smiles and oral health. Dr. Green has lectured nationally on advanced dental technology and is a product evaluator for the prestigious CR Foundation. Dr. Case received the Roland Jones Award for exemplary patient care and the George S. Monson Award for commitment and service to the St. Paul community. To schedule a denture consultation, call (763) 269-8650 or visit the website for additional services offered at Imagine Smiles.
Comments Off

on Do Your Dentures Smell? Here are 5 Ways to Keep Them Fresh
No Comments
No comments yet.
RSS feed for comments on this post.
Sorry, the comment form is closed at this time.