July 11, 2022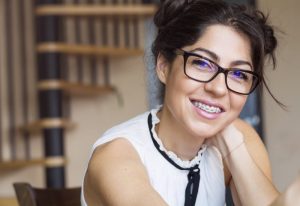 When you hear the word "braces," the first image that comes to mind is probably a teenager with awkward metal brackets and wires in their mouth. In fact, braces are so often associated with adolescence that you might be curious as to whether it's even possible for an adult your age to get straight teeth. You may be wondering, "Am I too old for braces?" The truth is that there's no such thing as being too old to straighten your teeth – and your dentist can help you accomplish that goal in as little as six months. Read on to learn how!
Is It Possible for Adults to Get Braces?
Braces might be viewed as a rite of passage for high schoolers, but that doesn't mean adults can't enjoy an aligned smile. Orthodontic treatment can actually work at any age. The main reason why people tend to get braces in their teen years is that the teeth are easier to reposition when a person is young. Over time, the bone surrounding the teeth becomes more solid, making it more difficult and time-consuming to shift them.
In short, it's definitely possible to straighten your teeth as an adult. However, the treatment may take slightly longer than it would at a younger age.
Straighten Your Teeth Quickly with Six Month Smiles
These days, many dentists offer an alternative to traditional braces, known as Six Month Smiles. As the name implies, this treatment is designed to align your teeth in just half a year. It uses brackets and wires that are made from tooth-colored ceramic rather than dark gray metals. So, your braces won't be immediately obvious.
Plus, you won't even have to wear these less conspicuous braces for nearly as long as you would conventional braces. Six Month Smiles is primarily focused on shifting the teeth that are visible when you grin. Because not as many teeth need to move, you can enjoy beautiful results much more quickly. After all, the average treatment time for regular braces is 24 to 36 months, which is four to six times longer than Six Month Smiles!
You might be wondering how much Six Month Smiles costs. While each patient's case differs, you'll be happy to hear that more often than not, Six Month Smiles costs less than traditional braces!
Ask Your Dentist About Six Month Smiles Today!
Deciding to straighten your teeth as an adult can be intimidating, but you'll be so glad you chose to do so. This is especially true when you get Six Month Smiles. Although adults with severe orthodontic issues might need traditional braces instead, Six Month Smiles can be a more convenient alternative. Reach out to your dentist today to schedule your consultation; you could have a fully aligned grin by this time next year!
About the Practice
At Imagine Smiles, Dr. Green and Dr. Case proudly offer Six Month Smiles in Blaine, MN for adults who wish to correct their crooked teeth as quickly as possible. They practice holistic dentistry, which means they focus on whole-body wellness as well as your comfort and safety while they improve your smile's aesthetics. So, you can trust that your experience will be smooth and stress-free every step of the way. Get started with Six Month Smiles by contacting their dental office at 763-269-8650.
Comments Off

on Am I Too Old to Get Braces?
No Comments
No comments yet.
RSS feed for comments on this post.
Sorry, the comment form is closed at this time.